Tranten's
Recipes
http://www.trantens.com/Recipes/Detail/7151/Alaska_Pollock_with_Spicy_Lemon_Walnut_Butter_Sauce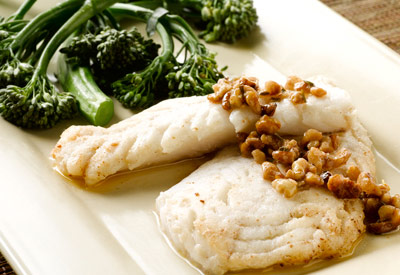 Alaska Pollock with Spicy Lemon Walnut Butter Sauce
Yield: 4 servings
Preparation Time: 10 min; Cook Time: 15 min
Ingredients
4

Alaska Pollock fillets (4 to 6 ounces each) fresh, thawed or frozen

1
Tablespoon

olive oil, canola, peanut or grapeseed oil

Salt to taste

Pepper to taste

1/2
cup

chopped walnuts

4
Tablespoons

butter, divided

1
Tablespoon

fresh lemon juice

2
teaspoons

grated lemon zest

1/4-1/2
teaspoon

cayenne pepper

1
Tablespoon

snipped chives
Nutrition Facts
Yield: 4 servings
Approximate Nutrient Content per serving:
Calories:
344
Calories From Fat:
234
Total Fat:
26g
Saturated Fat:
9g
Cholesterol:
131mg
Sodium:
223mg
Total Carbohydrates:
3g
Dietary Fiber:
1g
Protein:
27g
Calcium 27mg, Omega-Fatty acids 1930mg
Directions:
Heat a heavy nonstick skillet over medium-high heat. While pan heats, rinse any ice glaze from frozen Alaska Pollock fillets under cold water; pat dry with paper towel. Brush both sides of fillets with oil. Place fillets in heated pan and cook, uncovered, about 3 minutes, until browned. Shake pan occasionally to keep fish from sticking.

Turn fillets over and season with salt and pepper. Cover pan tightly and reduce heat to medium. Cook an additional 2 to 5 minutes or just until fish is opaque throughout. Remove fillets from skillet; keep warm.

Wipe out pan, if necessary. Add walnuts to skillet; cook until walnuts are lightly toasted, shaking pan occasionally to prevent walnuts from burning. Add remaining ingredients and heat through.

Spoon sauce over fish to serve.

Variation:
Alaska Cod or Sole fillets can also be used. Adjust cook time for larger cod fillets.

Recipes and Images provided by Alaska Seafood
Please note that some ingredients and brands may not be available in every store.
Tranten's Recipes
http://www.trantens.com/Recipes/Detail/7151/Alaska_Pollock_with_Spicy_Lemon_Walnut_Butter_Sauce